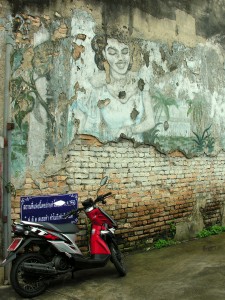 Southeast Thailand's overlooked gem
Awe-inspiring temples and churches, refreshing waterfalls, picturesque fishing villages, abundant fruit orchards, heritage architecture and an unforgettable regional cuisine with influences from the Thai, Chinese, Vietnamese and French. Arguably Thailand's most underrated destination, the "City of the Moon" never fails to captivate.
This two-day, one-night adventure takes you to the best of the Chanthaburi area to a explore offbeat spots and taste the fabulous regional cuisine that focuses on seafood and fruit. Click here for photos of this tour.
Itinerary:
First day
7:30: Pick up in Bangkok (we will stop along the way for coffee and snacks).
11:30: Arrive to Chanthaburi and visit the shrine of King Taksin, the legendary warrior-turned-monarch who built his army in Chanthaburi before defeating Burmese invaders in 1767.
12:00: Enjoy exceptional local dishes at a restaurant that's been going strong for over 50 years.
13:00: Watch locals cut and polish precious gemstones in Chanthaburi's famous gem market
14:00: Visit the historic Cathedral of the Immaculate Conception, the largest and most stunning church in the country.
15:00: Check in at a hidden resort with charming cottages perched directly over a fish pond.
15:30: Head down to the Gulf of Thailand coast to stroll through a mangrove walkway and aquarium, then feed sharks and other giant fish near a fishing village.
17:00: Take a drive along the coast for sunset, then enjoy a seafood dinner at one of the area's best seaside restaurants.
18:00: Return to the resort to relax and rest.
Second day
8:00: Check out and go for coffee and Thai or Western breakfast.
8:45: Wander through the enchanting Chanthaboon riverfront old town and its narrow lanes, stopping often to taste foods made by the locals and check out the Sino-European houses built over a century ago.
11:00: Drive to one of the most spectacular waterfalls in Thailand and feed the fish in a crystal-clear stream beneath the mountains.
12:00: Stop to experience a Chinese temple that's a whirlwind of colour.
13:00: Detour to fruit orchards and taste fresh durian, mangosteen, rambutan and other tropical fruits that Chanthaburi province is famous for.
13:45: Take a boat ride across a saltwater bay to a secluded crab farm and restaurant. Here on a stilted bamboo deck we'll enjoy an impressive meal that focuses on the crab and other seafood that teems in the water beneath your feet.
15:30: Return to Bangkok, arriving at around 20:00 (depending on where in the city you're going).
*If you're heading to Ko Chang or other Southeast Thai islands, or onwards to Cambodia, we can drop you in Trat town or at the ferry piers.
Examples of foods you'll try:
Fresh mangosteen salad
Fresh prawn chilli paste with lemongrass
Fried sticky rice with garlic and spices
Miniature Vietnamese-style banh mi sandwich
Roast pork curry with local specialty chamuang leaves
Whole steamed fresh fish with lemon, garlic and chillies
Clams, cockles and other shellfish
Yellow curry with fresh crab
Fresh whole saltwater crab
Noodle soup or stir-fried rice noodle with soft-shell crab
Fresh-picked Chanthaburi fruits
Durian and other Thai-style ice creams
*Food samples are subject to changes/additions and can be adapted to your tastes. Vegetarians and those with allergies are welcome.
Accommodation for the night is simple air-conditioned cottages with fridge, hot-water bathroom and large terrace perched directly over a fish pond that's lit up at night. Please let us know if you would prefer something more luxurious.
Days offered:
Every day; please inquire as far in advance as possible.
Meeting point and time:
7:30 am at your hotel in Bangkok.
Price:
7,900 Baht per person for 2 – 3 people.
6,900 Baht per person for 4 – 5 people.
Please inquire about price for groups of 6 or more.
Half price for children aged 12 and under.
Free for babies aged 2 and under.
*These prices are for private tours. We do not offer mixed group tours.
To reserve a tour, simply fill out the contact form below. Please check your Spam folder if you don't hear back from us within 24 hours.
[contact_form]
***When inquiring, please answer the following:
What is the date (or range of dates) that you would like to do the tour?
If you would like to be covered by our insurance for free, what are the full names, ages and nationalities of every person in your group?
Are you okay to meet at the meeting point or would like pick up at your hotel?
Any special eating requirements — allergies, vegetarian, no pork, no spicy food, etc.?
Have any special requests or comments?