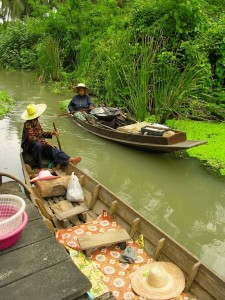 Journey into old style Thailand:
With its peaceful rural atmosphere, proud tradition of local foods, enchanting canal-side villages and floating markets that don't happen merely for tourism, a visit to Samut Songkhram province is like taking a step back in time. Join us for this day trip to see, taste and experience the best of old style Thailand.
The Amphawa & Tha Kha Floating Markets tour is perfect for anyone hoping to experience a real Thai floating market in all its colorful glory. This tour is also an opportunity to soak in the simple beauty of Thai village life along the canals — with some surprises thrown in. Click here for photos of this tour.
Itinerary:
8:00: Meet at Wutthakat BTS SkyTrain Station. We'll then embark on the hour drive to Samut Songkhram province; on the way, we'll stop to see a working salt farm in an area famous for its briny sea salt (when in season).
9:30: Arrive at Tha Kha, one of the last traditional floating markets left in Thailand. Just as they've done for centuries, the area's framers row wooden sampans to the market on weekends and certain moon cycle days to trade in the area's impressive array of produce. At the market, we'll chat with the locals and taste some of the Thai finger foods, noodles and fruits that this area is known for.
11:30: Take a ride on a long wooden rowboat paddled by a local. You'll cruise beneath tropical foliage that hangs over the canal, passing century-old wooden houses and spooky spirit shrines. Halfway through, we'll hop out to explore a coconut farm, eat fresh coconuts and watch as the farmers produce coconut sugar from the sap of the coconut trees.
12:30 – 13:30: Enjoy more local specialties in Bang Noi, another charming village on the Mae Khlong. You can also get a Thai massage while here.
14:30: Reach Amphawa and stroll beside the UNESCO-awarded teak wood houses that dot the canal. We'll also explore the market — both floating and on land.
16:00: Depart for Bangkok.
*These times are estimates and we don't normally stick to a rigid schedule. Traffic on the way back to Bangkok can be unpredictable. Typically we arrive at around 18:00, but it can be later if there is holiday traffic, for example.
Examples of foods you'll try: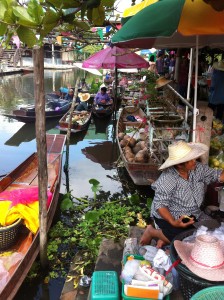 Rice with mackerel fish and shrimp paste in a coconut-leaf bowl
Crab chili paste with fresh vegetables
Steamed freshwater prawns
Grilled squid or sun-dried razor clams
Steamed saltwater crab or horseshoe crab
Barbecued pork skewers with sticky rice
Vietnamese noodle omellette
Tom yum noodle soup
Sticky rice sweetened with rice wine
Many other Thai sweets
Many types of tropical fruits, including whole green coconuts
Thai herbal drink with pandan leaf and lemongrass
Coconut ice cream
*Food samples are subject to changes/additions and can be adapted to your tastes. Vegetarians and those with allergies are welcome.
Days offered:
Saturday, Sunday and occasional weekdays, depending on the moon cycle.
Meeting point and time:
8:00 AM at Wutthakat BTS SkyTrain Station, Exit 2.
Price: 
4,500 Baht per person for 2-3 guests.
3,500 Baht per person for 4-6 guests.
3,000 Baht per person for 7-10 guests.
7,500 Baht for 1 person.
Half price for children aged 12 and under.
*These prices are for private tours. We do not offer mixed group tours.
To reserve a day, please email us directly at chilipastetour@gmail.com.
Please check your Spam folder if you don't hear back from us within 24 hours.
***When inquiring, please answer the following:
What is the date (or dates) that you would like to do the tour?
Number of people in your group?
What are the full names, ages and nationalities of every person in your group?
Do you need directions for going from your hotel to the meeting point?
Any eating restrictions such as food allergies, vegetarian or no pork?
Any health conditions that we should be aware of?