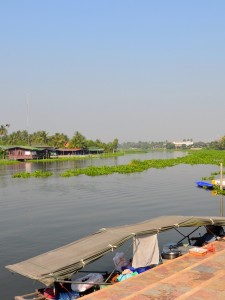 Experience the river's bounty
Just west of Bangkok's urban sprawl, the Tha-Jeen River snakes through centuries-old farming communities, ancient temples and riverside markets that burst with local produce. Sun-soaked fields of lotus, orchid, rice and pomelo stretch for miles, cared for by weathered farmers who are dedicated to the traditional ways of Thai life. It's an enchanting area, and you are most welcome.
The Markets & Farms of the Tha-Jeen tour takes you to the heart of rural Thai life. It's an especially great choice for flower enthusiasts, couples and families. Click here for photos of this tour.
Itinerary:
9:00: Meet at Wutthakat BTS Station and drive for around 45 minutes to a century-old market along the Tha-Jeen.
9:45 – 11:45: Explore the market and sample a range of local specialties, then drive to Jesada Car Museum.
12:00 – 12:30: Take a boat out on the Tha-Jeen River and eat some more.
12:45 – 14:00: Enjoy lunch at a no-frills countryside eatery serving exceptional Central Thai fare that relies heavily on locally caught fish and is made from scratch by the resident family.
14:15 – 15:00: Paddle a boat through a large lotus pond and visit an elderly farming couple. Here you'll also sample fresh and dried fruit produced on site.
16:00: Return to the SkyTrain in Bangkok.
*These times are estimates, and we don't normally stick to a rigid schedule unless the customer requests to be back at a certain time.
Examples of foods you'll try: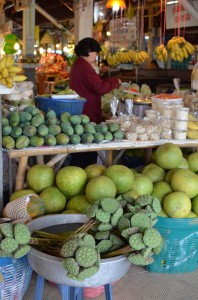 Shrimp and banana flower salad
Grilled mushroom chili paste
Salty mackerel fish salad
Steamed duck (a local specialty)
Deep fried frog (if you're so inclined)
Steamed snakehead fish with local-style chili sauce
Squid sauteed in fiery chili paste
Sweet and spicy curry with piper leaf and morning glory
Thai style sweets
The area's famous fruits
Thai coffee or tea
*Food samples are subject to changes/additions and can be adapted to your tastes. Vegetarians and those with allergies are welcome.
Days offered:
Every day.
Meeting point and time:
9:00 AM at Wutthakat BTS Skytrain Station, Exit 2.
For a map of the BTS sky train and MRT subway systems, click here.
Price:
3,800 Baht per person for 2 guests.
3,300 Baht per person for 4-6 guests.
6,800 Baht for 1 person only.
Half price for children aged 12 and under.
*These prices are for private tours. We do not offer public group tours.
To reserve a day, please email us directly at chilipastetour@gmail.com.
Please check your Spam folder if you don't hear back from us within 24 hours.
***When inquiring, please answer the following:
What is the date (or dates) that you would like to do the tour?
Number of people in your group?
What are the full names, ages and nationalities of every person in your group?
Do you need directions for going from your hotel to the meeting point?
Any eating restrictions such as food allergies, vegetarian or no pork?
Any health conditions that we should be aware of?