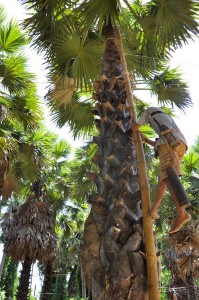 Slice deeper into a lifestyle of food
This multi-day program will immerse you in the agricultural lifestyle and food traditions found some 100 km southwest of Bangkok. Relax at a family-run homestay, watch monks row their sampans on morning alms round, visit villages that specialize in a single food product, and then tie it all together with daily cooking at Chin's kitchen by the canal.
The multi-day adventure takes you to rural areas in the provinces of Samut Songkhram, Ratchaburi and Phetchaburi, where life revolves around rivers, gardens and the sea. While the single-day Countryside Cooking Class remains a terrific option for a day trip, this program is suggested for those who would like to dig deeper into the food and traditions while learning a lot more in the kitchen. Click here for photos of this tour and here for photos of the kitchen and food.
Note: The program laid out below is designed for three days and two nights, but those with less time are welcome to do a two day, one night excursion. In this case, you can choose which day's worth of activities you'd prefer to cut. Chin can also do longer programs of up to five nights for those who want to go even deeper.
For information on the kitchen, the instructor/guide (Chin), and examples of dishes you'll learn to prepare, please see the page for our single-day excursion: Countryside Cooking Class.
Itinerary:
First day
7:30: Meet at your hotel in Bangkok and take the roughly one-hour drive to a village in Ratchaburi where artisans have crafted pottery by hand for many generations. You'll watch the craftspeople at work and try some of the local food.
12:00: Arrive at the Chili Paste kitchen and enjoy a private cooking class with Chin until evening, taking breaks throughout to try out what you've cooked.
Arrive at the homestay, eat some more (if you like), relax and take a boat ride to see the fireflies that light up the trees along the canal.
Second day
6:00: Offer food to an elderly monk who rows a slender wooden sampan on alms round every morning (optional).
7:00: Enjoy a mixed Thai / Western breakfast and then get ready for the day, stopping at a house where a family makes coconut sugar from scratch.
8:30: Take the roughly one-hour drive to a village in Phetchaburi province where the locals have made palm sugar for generations. Here you can watch the sugar makers at work and see how it differs from coconut sugar.
11:00: Arrive at Phetchaburi town to try locally famous Thai sweets along with other local dishes in an old market in this historic and charming Central Thai town.
13:00: On the way back, make a stop to watch shrimp paste being made and pick up fresh crab and other seafood at a seaside village with hundreds of stilted houses built over the water.
14:00: Arrive back at the kitchen and cook for the rest of the day before settling into the same low-key routine at the homestay.
Third day
9:00: After you've had breakfast and packed your bag, make the short drive to a village where several families have made a delicious Thai snack wrapped in banana leaves for two centuries.
10:30: Arrive at the bustling capital of Samut Songkhram province and visit a thrilling market where the vendors rush to lower their umbrellas and clear their merchandise off a track to let a train chug through. You'll also go deeper into the distinctive ingredients native to this area.
12:00: Return to the kitchen for one more full afternoon of cooking with Chin.
19:00: Return to Bangkok (this time is approximate and will depend on traffic; we suggest that you don't make any plans or book onward travel until later this evening, if not the next day).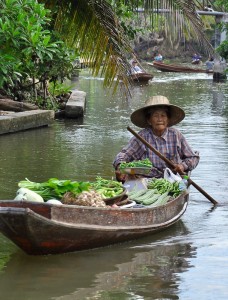 Accommodation:
Solo travelers and couples are cordially invited to the home of Tip, a close friend of Chin's who also helps in the kitchen and is a native of the area. Her traditional stilted wood house sits beside a canal lined with coconut trees — a soothing place that's typical of how many people live in this part of Thailand. In addition, Chin, your guide who will also stay at the house, has created a small museum displaying cooking tools, basketry and antiques from the area.
Your room comes with air-con, fan, window, desk, floor cushion, and soft king-size bed with mosquito net and quality linens. There is one simple bathroom with hot-water shower and Western flush toilet; it's not attached to the room and is also used by Tip and her father. You're also welcome to use the kitchen, sit on the porch and make yourself at home. The house does not have wifi, but you can connect to a slower 4G internet provided via a phone.
If you have a larger group or would prefer a different style of accommodation, we can also arrange a guesthouse or more expensive resort (please contact for specifics).
Days offered:
Every day. However, Chin is often booked in advance, so please contact as early as possible to reserve a day.
Price:
25,000 Baht for groups of two (total, not per person)
22,000 Baht for 1 person.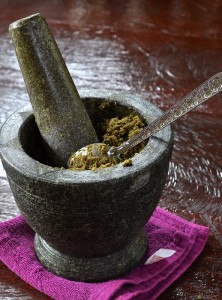 For groups of more than two, please contact us for a quote.
*These prices are inclusive of:
All food and drink (excluding alcohol)
Three cooking classes
Two nights at Tip's homestay including breakfast
Transportation in Chin's 2012 Nissan March
Cooking instructor / tour guide (Chin) for the duration
Pick up and drop off at a hotel in central Bangkok (extra charge for pick up / drop off at either of Bangkok's airports or other more distant places)
*These prices are for private tours. We do not offer mixed group tours.
To reserve a day, please email us directly at chilipastetour@gmail.com (note: that's "chili" with only one L).
Please check your spam folder if you don't hear back from us within 24 hours.
***When inquiring, please answer the following:
What is the date (or range of dates) that you would like to do the tour?
Number of people in your group?
If you would like to be covered by our insurance for free, what are the full names, ages and nationalities of every person in your group?
Any special eating requirements — allergies, vegetarian, no pork, no spicy food, etc.?
Are there any types of meat or seafood that you prefer?