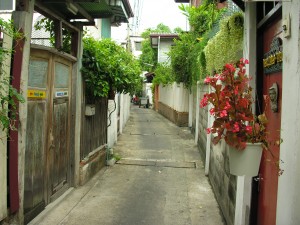 An age-old blend of grit and charm.

Few foreigners venture west into Thonburi's tangle of alleys that have been around since 'Bang Kok' was an unknown plum-growing village. Defined by teak wood houses rather than skyscrapers, the area allows you to slip behind Bangkok's gleaming facade. Here in the hidden corners, you'll find an easygoing attitude, great food and enduring Thai arts and crafts.
The Thonburi Food & Art Walk offers plenty of great food, but it also incorporates traditional aspects of Thai culture that sparsely exist elsewhere. Click here for photos of this tour.
Itinerary:
9:00: Meet at Saphan Taksin BTS SkyTrain station or Phra Athit Express Boat Pier and take a public river boat up the Chao Phraya River. (Pick up at your hotel is also available).
9:30 – 11:30: Dive into one of Bangkok's most bountiful street food markets and soak up the colorful scenes. Here you'll sample authentic food ranging from sticky rice sweets to whole fish, partly enjoyed at a relaxing riverside eatery.
12:00 – 12:30: Visit a charming family who have been producing bael fruit sweets and teas for generations. While exploring a network of alleyways lined by venerable old houses, you'll learn how the fruits are processed in the traditional way.
12:45 – 13:15: Stroll through the old neighborhood to an authentic (and jaw-dropping) Thai fresh market, where you'll sample fresh fruit and learn about Thai spices.
13:30 – 14:00 After a tuk tuk ride further into Thonburi, you'll relax while sampling more food in a beautiful teak wood house that has become the focal point of a local artist village. We'll also walk along the canal and stop at a stunning yet little-known temple that dates from the 1600s. Here you can learn your fortune — if you dare.
14:00 – 14:30: Return to the Artist House for a traditional Thai puppetry performance by a well-established troupe.* Don't be surprised if the puppets decide to befriend you.
15:00: Return to the SkyTrain, from where Chin will send you on your way or accompany you back to your hotel.
*The puppet troupe occasionally cancels at the last minute. We have no control over this, but the neighborhood is still worth visiting even without the show.
Examples of food you'll try: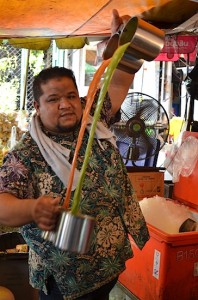 Vietnamese-style peppered sausage noodle soup with a northeastern Thai twist
Spicy, sweet and sour salad made from pomelo fruit
Whole snakehead fish fried with northeastern Thai salad
Fiery chili paste with steamed Thai vegetables
Bamboo shoot dumplings
Southern Thai curries
Thai style sweets
Thai tropical fruits
Traditional Thai drinks (lychee and butterfly pea juice, Thai coffee/tea)
*Food samples are subject to changes/additions and can be adapted to your tastes. Vegetarians and those with allergies are welcome.
Days offered: 
Monday, Tuesday, Thursday, Friday.
Meeting point and time:
9:00 AM at Saphan Taksin BTS SkyTrain Station, exit 2.
*If you're staying in the Khao San Road / Grand Palace area, we can meet you at Phra Athit Express Boat Pier.
For a map of the BTS sky train and MRT subway systems, click here.
We also offer pick-up service at most locations in Bangkok for 250 baht one-way. For this, we use public transport as Bangkok's traffic can be a nightmare.
Price:
1,700 Baht (US $50) per person for groups of 2 or more.
2,500 baht Baht (US $75) for 1 person.
Half price for children under 12.
Free for toddlers under 4.
*These prices are for private tours. We do not offer mixed group tours.
To reserve a day, simply fill out the contact form below and we will respond within 24 hours (usually a lot faster).
[contact_form]
***When inquiring, please answer the following:
What is the date (or range of dates) that you would like to do the tour?
Are you okay to meet at the meeting point or would like pick up at your hotel?
Any special eating requirements — allergies, vegetarian, no pork, no spicy food, etc.?
Have any special requests or comments?