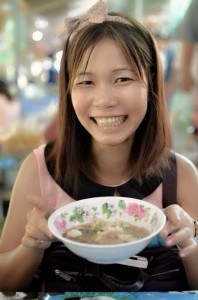 Founded in 2012, Chili Paste Tour is the creation of Ubon Ratchathani native and Bangkokian of over 10 years, Chin Chongtong, who is also the chief tour guide.
Saying Chin is a Thai food enthusiast would be a massive understatement — nearly all of her free time is spent exploring, studying and experimenting with Thai cuisine. In her own kitchen, at country farms, at Bangkok's endless street stalls, markets and anywhere else where people are serious about food (just about anywhere in Thailand), Chin can be found tirelessly searching for the best and most interesting flavors around.
With a sharp palate that tends towards the sour rather than the sweet, Chin feels that MSG and mass-produced seasonings, so common in Thailand today, are taking Thai food in a worrisome direction. Though she doesn't shun new ideas — indeed she often comes up with her own unique culinary creations — she is naturally devoted to preserving the roots of Thai food.
In the countryside, Chin loves to visit farms to gain a first-hand understanding of the people who produce the raw ingredients of Thai food, and the land that fosters it. In the city, she seeks out and befriends modest individuals and families who have devoted their lives, or even generations, to perfecting just one or two dishes. As a child, Chin's mother and grandmother taught her to forage for wild herbs, mushrooms and other ingredients in the northeastern Thai hills, instilling in her a profound respect for nature.
As a tour guide, Chin aims to be professional while also keeping things fun and relaxed; one guest remarked that she's more like a host than a "proper" guide. She hopes you'll feel like you're being shown around by a local friend who happens to be an expert on Thai food. Above all, Chin cares deeply about the local communities that she frequents, which is clearly evident in her friendly relations with the locals themselves.
And of course, Chili Paste Tour is a legally registered Thai company with all necessary licenses for conducting tours in Thailand.