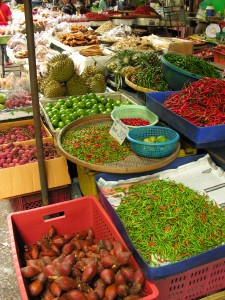 Chili paste, or nam prik in Thai, is a staple food found throughout Thailand. A hint of nam prik is enough to lend serious flavor and spice to plain veggies and rice, so although it's loved by Thais of all classes, it's an especially important addition to everyday meals in non-wealthy homes.
Nam prik is created by pounding spicy Thai chilis along with a mix of fresh spices with a morter and pestle, a method that has been handed down from one generation to the next over thousands of years. No two chili pastes are alike, and a real home-made nam prik is nothing short of a work of art. So when coming up with a name for our company, we felt nothing expresses Thailand's rich culture and beaming creativity better than nam prik.
At Chili Paste, we're committed to keeping traditional Thai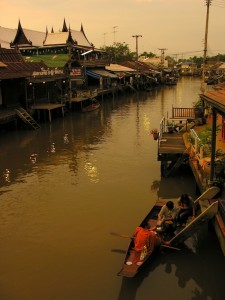 food and culture alive while sharing our passion for it. Thailand – and especially Bangkok – has modernized in an amazingly short amount of time, at what some feel has been the expense of its graceful and artistic culture. It's true that much of the classic Thai charm is overshadowed today by mega-malls, corporate advertisements and soaring skyscrapers, but authentic Thai culture still thrives and can be discovered — if you're willing to dig beneath the surface.
Driven by our passion for Thai culture, that's exactly what we've been doing, day after day, for many months and years. We've explored Bangkok's nooks and crannies and uncovered unforgettable but unassuming tastes, people and places.
With that said, we don't typically include the major tourist sites on our programs. These are certainly worth visiting, but they're not too difficult to explore on your own, and most Bangkok tour companies seem to be convinced that tourists are only interested in these big attractions. We strongly feel they've underestimated the desire of foreigners to experience the more modest yet entirely magical side of Bangkok.
If you're inspired by the idea of strolling, peddling or rowing past grandmothers who laze in old teak wood homes, soaking up the sizzle of vegetables being tossed in weathered old woks, sampling intensely flavored foods that many Thais feel are 'off limits' to foreigners, pounding a curry paste by hand from ingredients grown in the gardens of local villagers, and generally experiencing Bangkok's colorful, genuine and unguarded personality, then we hope to befriend you soon.