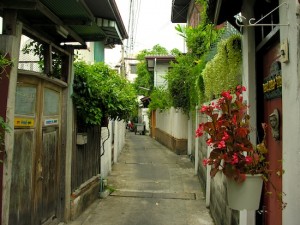 Explore the lesser-known half of Bangkok.

Few foreigners venture west into Thonburi's tangle of alleys that have been around since 'Bang Kok' was an unknown plum-growing village. Defined by teak wood houses rather than skyscrapers, the area allows you to slip behind Bangkok's gleaming facade. Here in the hidden corners, you'll find an easygoing attitude, great food and enduring Thai arts and crafts.
The Thonburi Food & Art Walk offers plenty of great food, but it also incorporates traditional aspects of Thai culture that sparsely exist elsewhere. Click here for photos of this tour.
Itinerary:
9:00: Meet at Krung Thonburi BTS SkyTrain station and head into old Thonburi.
9:30 – 11:30: Dive into one of Bangkok's best street food markets and soak up the colorful scenes. Here you'll sample authentic foods from various regions of Thailand.
12:00 – 12:30: Visit a charming family who have been producing bael fruit sweets and teas for generations. While exploring a network of alleyways lined by venerable old houses, you'll learn how the fruits are processed in the traditional way.
12:45 – 13:30: Take another public boat down the river to try Thai foods with a twist that came from Portuguese settlers centuries ago in the vicinity of Santa Cruz Church.
13:30 – 14:30 After a tuk tuk ride, relax while sampling more food in a beautiful teak wood house that has become the focal point of an artist village, and watch a traditional Thai puppetry performance if the troupe is in town.*
15:00: Return to the SkyTrain.
*The puppet troupe typically performs on Saturdays and Sundays only, although this is never a definite, and at times they perform on a random weekday. The neighborhood is  worth visiting, even without the show.
Examples of food you'll try: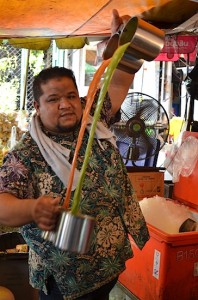 Vietnamese-style peppered sausage noodle soup with a Northeastern Thai twist
Spicy, sweet and sour salad made from pomelo fruit
Whole snakehead fish fried with northeastern Thai salad
Fiery chili paste with steamed Thai vegetables
Khao soi (Northern Thai curry soup)
Southern Thai curries
Bamboo shoot dumplings
Thai style sweets
Thai tropical fruits
Traditional Thai drinks (lychee and butterfly pea juice, Thai coffee/tea)
*Food samples are subject to changes/additions and can be adapted to your tastes. Vegetarians and those with allergies are welcome.
Days offered: 
Tuesday, Wednesday, Thursday, Friday.
Meeting point and time:
Normal meeting is 9:00 AM at Krung Thonburi BTS SkyTrain Station, Exit 2.
For a map of the BTS SkyTrain and MRT Subway systems, click here.
*Please let us know if you're staying away from the SkyTrain/Subway lines (in Khao San Road or Chinatown areas, for example); in these cases it may be possible to meet at a Chao Phraya river ferry pier.
Price:
2,800 Baht per person for 2 guests.
2,600 Baht per person for 3 guests.
2,400 Baht per person for 4-6 guests.
2,200 Baht per person for 7+ guests.
4,000 Baht for 1 person only.
Half price for children aged 12 and under.
*These prices are for private tours. We do not offer mixed group tours.
To reserve a day, please email us directly at chilipastetour@gmail.com.
Please check your Spam folder if you don't hear back from us within 24 hours.
***When inquiring, please answer the following:
What is the date (or dates) that you would like to do the tour?
Number of people in your group?
What are the full names, ages and nationalities of every person in your group?
Do you need directions for going from your hotel to the meeting point?
Any eating restrictions such as food allergies, vegetarian or no pork?
Any health conditions that we should be aware of?